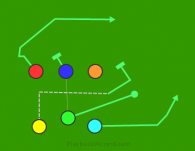 The pro-set initial formation keeps the defense honest.  They will likely be in lanes or man to man.  The motion gives the offense the numbers advantage to the right to run the option.  The RB that is in motion is the lead seal block on the end man on the line of the defense.  They won't have very much time to adjust so that guy should be either inside or directly on top of the RB. The backside TE/WR gives a good blocking look then drags the back of the endzone.  If the QB run or option isn't there for the QB this is his checkdown/last option.
Pro Set- Motion Option with TE backside drag is an offensive 6 on 6 flag football play from Pro Set Tight which is a pro set formation with the quarterback under center, two running backs, and two wide receivers lined up tight.  This play is authored by tholmes222.
If you like this play, try becoming a football play designer or take your game to the
next level with football wristbands.