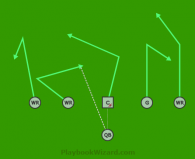 WR
Run a deep fade route as if your going to run deep than quickly come back towards the side line looking for the football.
WR
Slant to the outside then sharply cut back to the middle of the field looking for the ball throughout the 1st layer of the zone.
C
Start with a deep slant until you'll past the 1st layer of the zone than form the route into a flag route by slanting in the opposite direction.
QB
Progression
1) Slant
2) Deep Fade Comeback
3) Flag
4) Deep Post
5) Check Down
G
Run past the 1st layer of the zone and then back into the opening near the sideline.
WR
Run a deep skinny post, separating the deep safeties.
Patriot is an offensive 6 on 6 flag football play from Balanced Spread which is a all five receivers are spread out evenly on the line of scrimmage with the quarterback in shotgun. This play is authored by Lawrence.
For other plays check out our flag football playbooks or become a football play designer
or take your game to the next level with a wristcoach.