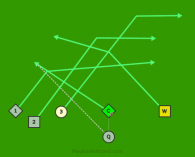 3
Route: Deep slant in, run 15 steps diagonally, then flatten to sideline
Purpose: Everyone is crossing in middle of field. In the confusion you should be left open crossing all the way across the field deep.
Tip: You should be AHEAD of everyone. Everyone is cutting behind you. Aim to flatten your route at about the center of the field.
2
Route: Middle Slant-In, run 10 steps diagonally upfield, then after 10 steps flatten out. Look for defender covering
Purpose:
C
Route: Snap the ball, then pause for a full 2 seconds, then slant under very flat. Do not go deep! You should run toward sideline.
Purpose: You pause so your defender thinks you are just snapping the ball and not going out. This also gives time for #1 receiver to take out your defender.
Tip: Watch #1 receiver, when he is close to taking out your defender start running towards sideline. Again do not go deep. You are the Primary receiver!
W
Route: Middle slant, run 12 steps diagonally, then flatten deep to sideline
Purpose: You are the SECOND receiver.
Tip: Look for #2 coming across the field. You want to CROSS with him/her but you will go UNDER them. So cut off their shoulder and look for the pass!
Q
Primary: Center
Second: Weak (single) receiver
Progression: You are going to center then single receiver. But takes time. Look at #1 to hit the middle defender before you look for center.
Tip: Be patient. Let the confusion happen. Watch those on trips side come across field. Then look left at center who has slipped out!
1
Route: Short slant-in, run 5 steps diagonally, then cut flat and try to run into the middle defender, then continue to sideline.
Purpose: Basically to block the middle defender covering the center (the person hiking the ball). This will help them get open!
Tip: Pre-snap, find the middle defender covering the center. Then basically run right at em!
T Bravo is an offensive 6 on 6 flag football play authored by Team Purple.
If you like this play, try becoming a football play designer or take your game to the
next level with football wristbands.