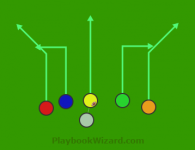 This play is meant for when zones are set up with a side weakness
sideoverload is an offensive 6 on 6 flag football play from regular which is a no one in backfield running backs line up in the slot and receivers line up in their usual position. This play is authored by atbaum.
If you like this play, try becoming a football play designer or take your game to the
next level with football wristbands.