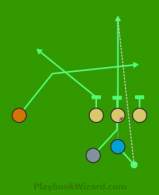 Running back block for center while he runs a fly.
| | |
| --- | --- |
| | QB: Center is the first read. If he's not open the wide receiver on the crossing route should be. If not, the lineman running the fade is the safety valve. |
Center Fly is an offensive 6 on 6 flag football play from the Shotgun Base Strong formation and is authored by NFL Package.