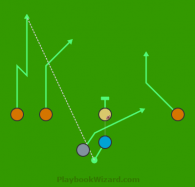 Fake draw to running back to a curl and go with the outside wide receiver.
| | |
| --- | --- |
| | QB: Fake handoff then fake to outside receiver on the curl and go. If his defender bites throw it to him long. If not, look for the post over the middle or the center and running back checkdowns. |
Fake Draw Curl and Go is an offensive 6 on 6 flag football play from the Shotgun Twins formation and is authored by NFL Package.